SEO for Landscaping Companies
Our Playbook Builds Leads - Guaranteed
At RedBrick, we are dedicated to propelling your landscaping business to greater heights by boosting your online presence and drawing more potential clients to your website. Our experienced team acknowledges that the core of a thriving landscaping service isn't just about maintaining lawns—it's about being the top selection when customers need comprehensive landscaping solutions. That's where our customized SEO tactics come into effect.
Landscaper SEO
The Key to Increasing Leads & Securing Projects The secret to garnering more business for landscapers is in mastering the distinct SEO strategies pertinent to the landscaping sector. With RedBrick's proficient team, we ensure your services reach the homeowners and businesses seeking them the most. We immerse ourselves in keyword research, honing your website content to focus on the search terms your prospective clients are inputting into search engines at this moment.
Local SEO
Dominating the Local Landscaping Market Local SEO is crucial for landscapers. We enhance your website to feature prominently in local searches, guaranteeing that your business appears in the critical "near me" search results. Our strategies include optimizing your Google My Business profile, garnering favorable reviews, and ensuring your NAP (Name, Address, Phone Number) is consistent across the internet.
On-Page Optimization
Crafting Content That Resonates with Landscaping Clients RedBrick knows that on-page optimization for landscapers is about more than just keyword insertion. It involves crafting informative, captivating content that addresses the specific needs and questions of your clientele. We refine your service pages, blog articles, and FAQs to make them accessible and appealing to both search engines and users.
Climbing SERPs in Landscaping Ascending the ranks of search engine results pages (SERPs) can be a challenge, particularly in the competitive field of landscaping. Yet, with RedBrick's strategic SEO approaches, achieving a top spot becomes an attainable goal. Our focus includes:
Keyword Strategy: Targeting the Right Keywords
Zeroing in on Effective Keywords We don't just chase the most popular search terms; we target the ones that lead to project inquiries and engagements, also known as money keywords. Our thorough research encompasses understanding the vernacular and issues of your prospective clients, pinpointing keywords that will attract the right visitors to your site.
Quality Content
Establishing Your Authority Google and your customers both favor authoritative content. We assist you in becoming the prime resource for landscaping insights, advice, and knowledge, which builds trust and drives organic traffic.
Backlink Building
Solidifying Trust High-quality backlinks are a vote of confidence for search engines. We support you in developing a network of credible links that boost your website's credibility and ranking.
Enhance Leads & SERP Positions with SEO for Landscapers Boosting leads and SERP positions is a complex task that RedBrick excels in. Our landscaping SEO services are comprehensive and tailored to the needs of your business.
Technical SEO
Ensuring Your Website's Optimal Performance Technical SEO confirms that your website is structured efficiently for search engines to explore and index your pages effortlessly. We manage the technical details, like website speed optimization and mobile-friendliness, that are essential for prominent rankings.
Analytics and Reporting
Tracking Your Progress Through our consistent analytics and reporting, you will witness firsthand how our SEO strategies are increasing your visibility and cultivating more leads. We monitor everything from keyword rankings to web traffic, allowing you to see the tangible benefits of our services.
Continuous Optimization
Keeping You at the Forefront SEO is an ongoing endeavor. We continuously evaluate your website's performance, keeping abreast of the latest search engine algorithms and modifying our strategies as needed to maintain your competitive edge.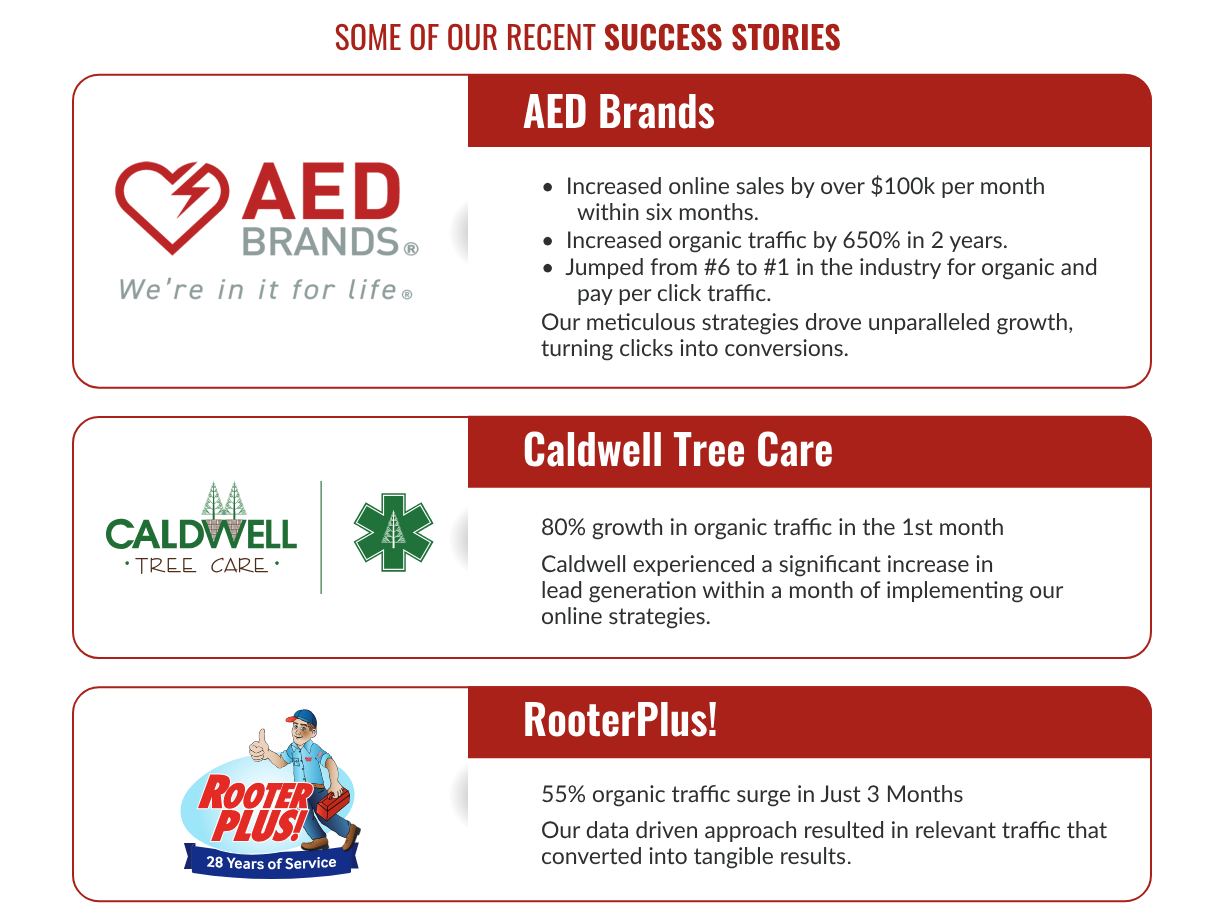 SEO Case Study for Home Services
Within the first 90 days, we were able to double traffic and leads for an Atlanta Home Services Company. Our methods are proven to work and we ensure that our clients are informed with the latest happenings around their site's development.
Our Portfolio










Q
What is SEO for Landscapers?
A
SEO for landscapers refers to the process of optimizing a landscaping business's online presence to rank higher in search engine results pages (SERPs) for searches related to landscaping services. Given that many people turn to search engines like Google to find local services, including landscaping, appearing prominently in search results can significantly increase visibility and business opportunities for landscapers.

Q
How Does SEO Increase Leads for Landscapers?
A
SEO increases leads for landscapers by enhancing their visibility in search engine results when potential customers are actively seeking landscaping services. By optimizing their website with relevant keywords, securing local listings, and generating authoritative backlinks, landscapers can appear more prominently in SERPs, particularly for local searches such as "landscaper near me" or "landscape design services." As the landscaping business ranks higher for these search terms, the website is more likely to be clicked on by users, leading to increased web traffic and, consequently, more service inquiries and potential sales.

Q
Tracking ROI for SEO
A
Tracking Return on Investment (ROI) for SEO involves measuring the performance of your SEO efforts and comparing it against the costs incurred in implementing those strategies.

Q
How Long Does it Take for SEO Results?
A
The timeline for seeing tangible results from SEO efforts can vary widely, but generally, it's reasonable to expect some initial results within 3 to 6 months, with more significant progress often taking 6 to 12 months or more.

You've Heard From Us
Let's Hear From You