Google My Business Optimization Service
Google My Business Optimization Service Overview
Our Playbook Builds Leads - Guaranteed
At RedBrick, we specialize in growing your business' online presence to the next level by enhancing your online visibility and drawing more leads to your site. Our dedicated team understands that the foundation of a successful plumbing service is not just about fixing pipes—it's about being the first choice when customers are in need.
Unlock your business's full potential in local searches with our tailored Google Business Profile (GBP) Optimization Service. Our approach is designed to elevate your visibility for targeted search phrases within your specific local market, ensuring your business stands out when it matters most.
Initial Benchmark Performance Report
We kick off with a detailed analysis of your current online performance, setting a benchmark to track the progress of our optimization efforts. This report provides valuable insights into where you stand in the digital landscape and identifies opportunities for growth.
Geogrid Keyword Rankings Report
Our Geogrid-based reporting offers a visual representation of your local search rankings, pinpointing exactly how your business is performing for crucial keywords across different locations within your target market. This geographic keyword analysis is instrumental in guiding our optimization strategies.
GBP Scorecard
Receive a comprehensive GBP scorecard that grades your profile based on a series of critical factors, including completeness, engagement, and local SEO practices. This scorecard highlights strengths and areas for improvement, forming the foundation of our targeted optimization plan.
Google Business Profile Optimization
We meticulously enhance every aspect of your GBP, from NAP consistency (Name, Address, Phone Number) to operational hours, ensuring accuracy and completeness for better search performance.
Category Optimization
Selecting the right categories can make a significant difference. We conduct extensive research to identify and implement the most relevant and beneficial categories for your business, enhancing your chances of being found by the right audience.
Description Optimization
Our team crafts a compelling and keyword-rich business description, capturing the essence of your brand while leveraging SEO best practices to improve your search presence.
Services Optimization
We optimize your listed services with precise descriptions and strategic keyword placement, making it easier for potential customers to find exactly what they're looking for and for Google to match your business with relevant queries.
Optimization of Image and Video Uploads
Visual content can significantly impact your GBP's performance. We optimize all image and video uploads with appropriate tags, descriptions, and geo-tagging where relevant, enhancing engagement and signaling relevance to search engines.
By choosing our Google Business Profile Optimization Service, you're investing in a comprehensive strategy designed to enhance your online presence, attract more local traffic, and ultimately grow your business.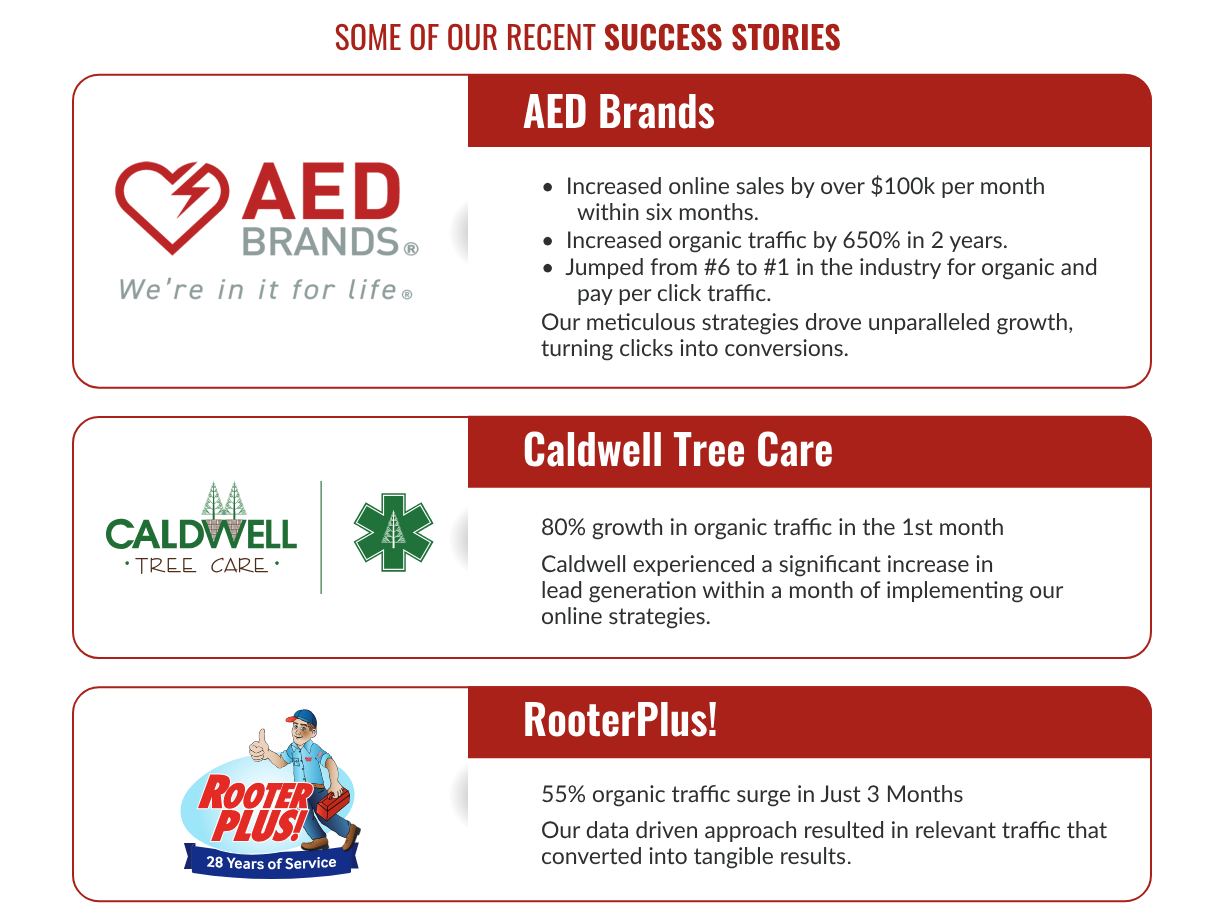 Case Study for Plumbers
Within the first 90 days, we were able to double traffic and leads for an Atlanta Plumbing Company. Our methods are proven to work and we ensure that our clients are informed with the latest happenings around their site's development.
Our Portfolio










Q
What exactly is a Google Business Profile Optimization Service?
A
A Google Business Profile Optimization Service is a specialized service designed to enhance your business's visibility on Google. It includes optimizing various aspects of your Google Business Profile, such as ensuring accurate business information, selecting appropriate categories, crafting a compelling description, optimizing service listings, and improving visual content with images and videos. This optimization aims to boost your profile's performance in local searches, making your business more discoverable to potential customers.

Q
How does the Initial Benchmark Performance Report help my business?
A
The Initial Benchmark Performance Report serves as a starting point for optimization efforts. It provides a detailed analysis of your current online performance, including how you rank in local searches and your visibility on Google Maps. This report helps identify your business's strengths and areas for improvement, setting clear benchmarks to measure the progress of our optimization strategies over time.

Q
Why is choosing the right categories in my Google Business Profile important?
A
Selecting the right categories for your Google Business Profile is crucial because it directly affects how your business is discovered by users. The right categories increase the likelihood that your business will appear in search results when potential customers look for services or products you offer. Accurate categorization helps Google understand your business better, thus connecting you with the most relevant local searches.

Q
How often should I update the visual content in my Google Business Profile?
A
It's recommended to regularly update the visual content in your Google Business Profile to keep it fresh and engaging. This could mean uploading new photos or videos when you have new products, services, or promotional events. Regular updates signal to Google that your business is active, which can help improve your search ranking. Additionally, it provides potential customers with the most current visual representation of your business, products, or services.

You've Heard From Us
Let's Hear From You